1977
---
Establishment of a General Partnership. A 4500m² site in Kathiana (Akrotiri) is bought together with mechanical equipment in order to commence producing and bottling of Acetylene on a 800m² premises.
1981
---
Conversion of the General Partnership into a Limited Company named MOBIAK S.A. (the abbreviation stands for Industrial-Medical Gas Plant of Crete).
In the same year occurs an extension of the premises to an additional 1200m². Mechanical equipment for the production and bottling of oxygen is purchased and installed.
1983
---
Α retail store on M. Botsari Street opens in a privately owned building (PYROMEDICAL). Its purpose is to promote the local MOBIAK products in Chania. In 2007 the Private business run by Mrs. Irene Svouraki, becomes a Limited Company with the 50% share of her son, Manolis.
Today, PYROMEDICAL applies ISO 9000 management system and is also approved by EKAPTY for the commercialization of Medical & Home-Care Equipment.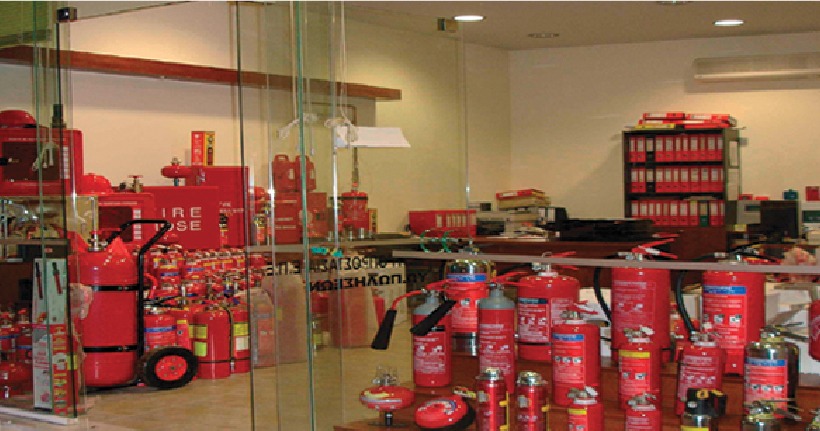 1986
---
ΜOBIAK extends its activities in two key and innovative fields for the time:
a) Sales and Bottling of all types of Liquids & Gas, and
b) Marketing & Inspection of all types of Fire Fighting Equipment.
PYROPROSTASIA Ltd is created. It now hosts the Technical Team of MOBIAK, performing Installations & Fire Protection Studies.
1994
---
Certification for the fire Suppression & Safety Control System on ships granted by the Hellenic Register of Shipping. MOBIAK cooperates with all naval companies whose ships pass through the local Bay.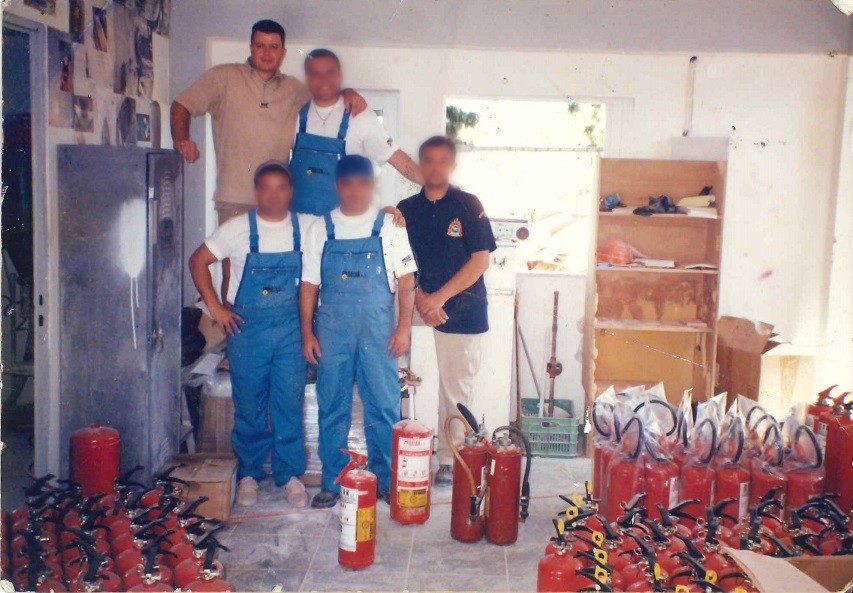 1996
---
In 1996 Manolis Svourakis, son of Emmanuel Svourakis with his innovative ideas opens up a great new capital for MOBIAK SA.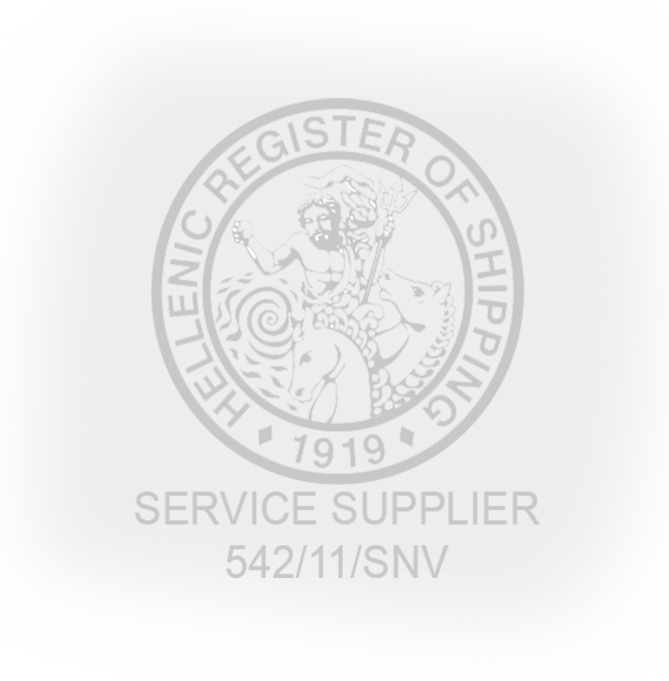 1998
---
Granted permission to MOBIAK for Trading & Inspection of High Pressure Cylinders.
2000
---
MOBIAK enters ISO 9001 Quality Assurance System.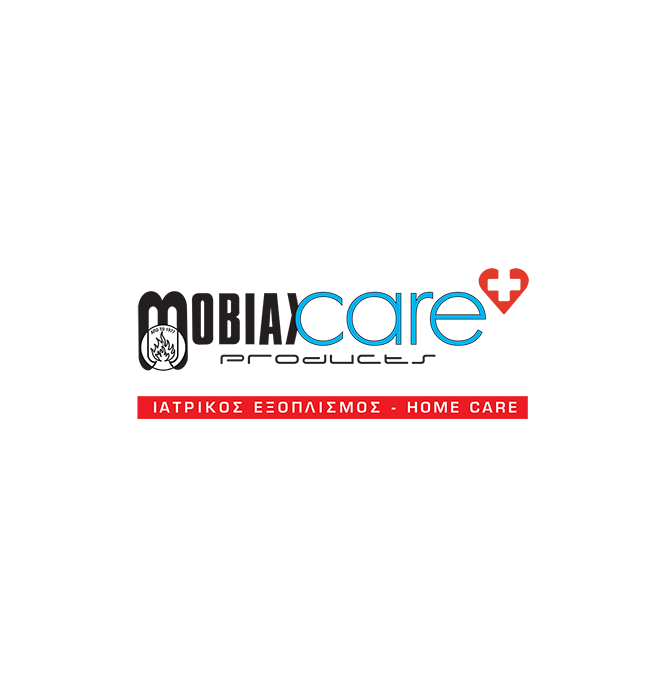 2001
---
The third sector of MOBIAK starts operating: MOBIAKCARE (trading of Medical Equipment, Orthopedics & HomeCare Products).
2003-2004
---
Two Warehouses are bought for covering all company's distribution needs in Piraeus (1100m²) and Thessaloniki (700m²).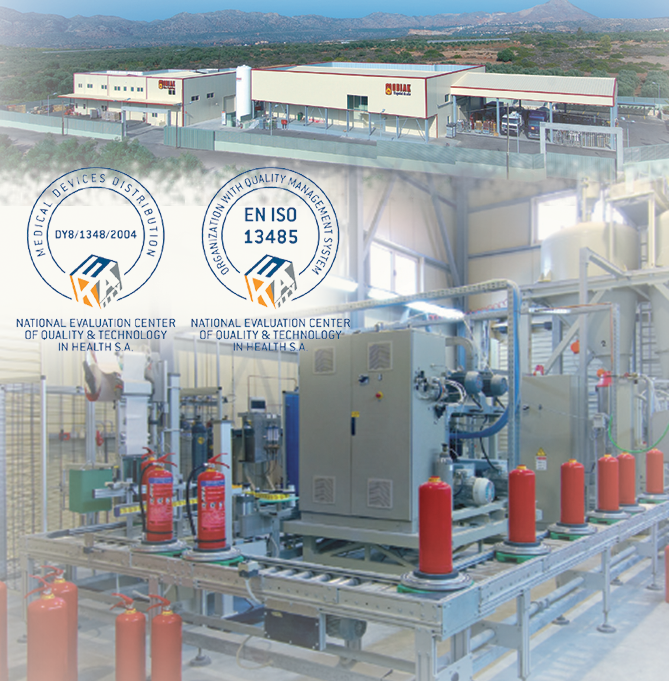 2005
---
Starts a large investment project of 5.500.000€ regarding the expansion of the Factory Premises for 3500m² more. 2500m² are used for housing the New Assembling Line & Offices, whereas 1000m² are used for materials' storage. The Assembling Line is one of the 5 biggest amongst all Europe.
MOBIAK enters ISO 13485 (Distribution of Medical Devices and Technical Support & Maintenance of Oxygen Therapy Products).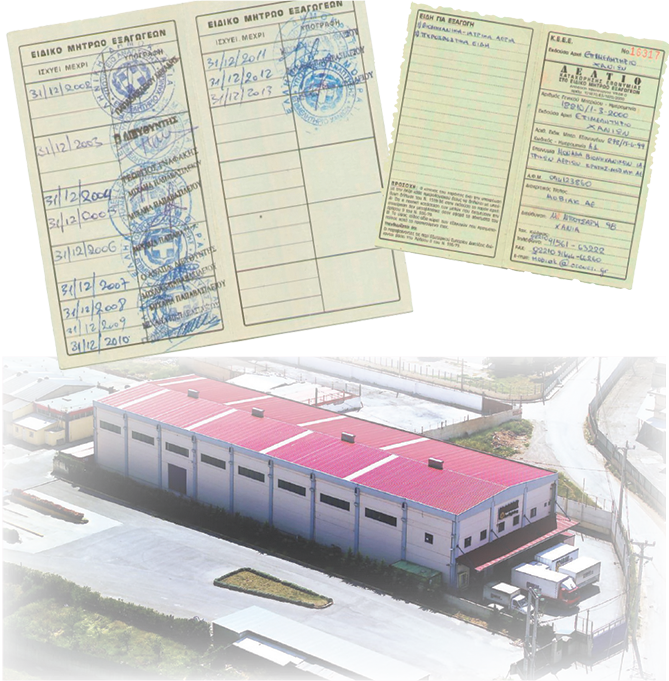 2006
---
Purchase of New Warehouses in Athens (Aspropirgos) and Thessaloniki (Kalochori) of 2000m² and 1300m² respectively. Athens is the Central, Southern & Insular Greece Distribution Center & Thessaloniki becomes Northern Greece and Balkan Area Distribution Center.
MOBIAK already exports in 5 countries.
2007
---
The large expansion that has started in 2005 is now completed. New Investment of 1.000.000€ takes place for the factory's old buildings' renovation (1000m²). MOBIAK enters ISO 14001 Environmental Management System. By this time MOBIAK's employees number 50 persons.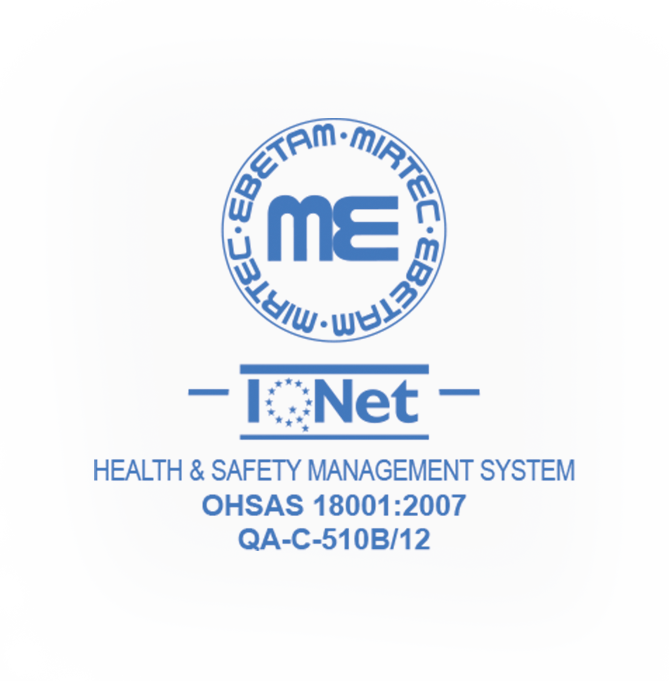 2009
---
MOBIAK enters OHSAS 18001 Health & Safery Management in the Workplace.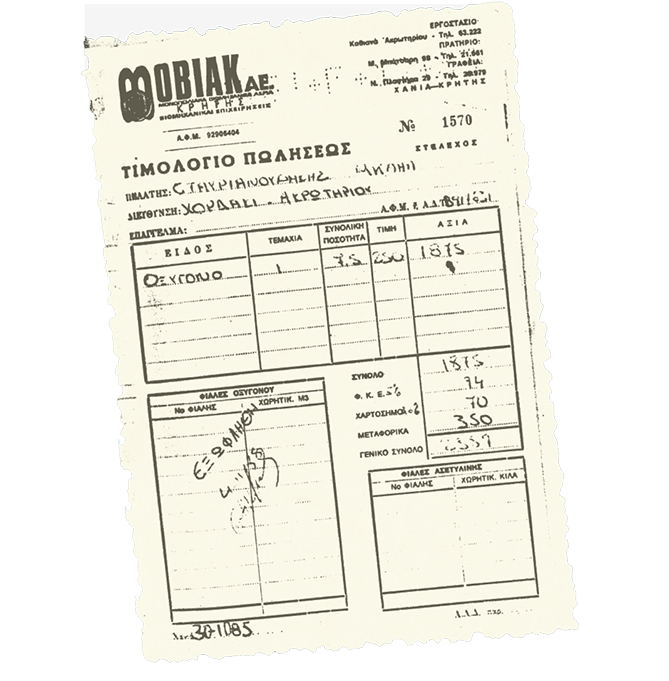 2010
---
Exports Network expands to 26 countries worldwide.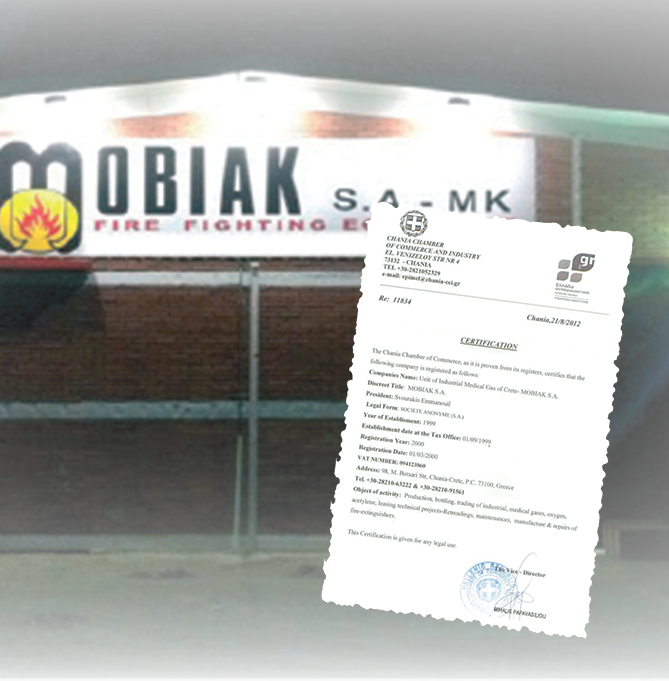 2011
---
MOBIAK's Product Catalogue numbers more than 650 products. The Central & Eastern Crete Distribution Center is created in the Industrial Zone of Heraklion (600m²). The FYROM Distribution Center is created in order to serve partners in the Balkan Area.
2013
---
GEM Fire Fighting Equipment Co.,Ltd is founded: a Sister Company of MOBIAK having its Headquarters in China along with a skillful team. GEM performs thorough Quality Control in every Raw Material imported to Greece.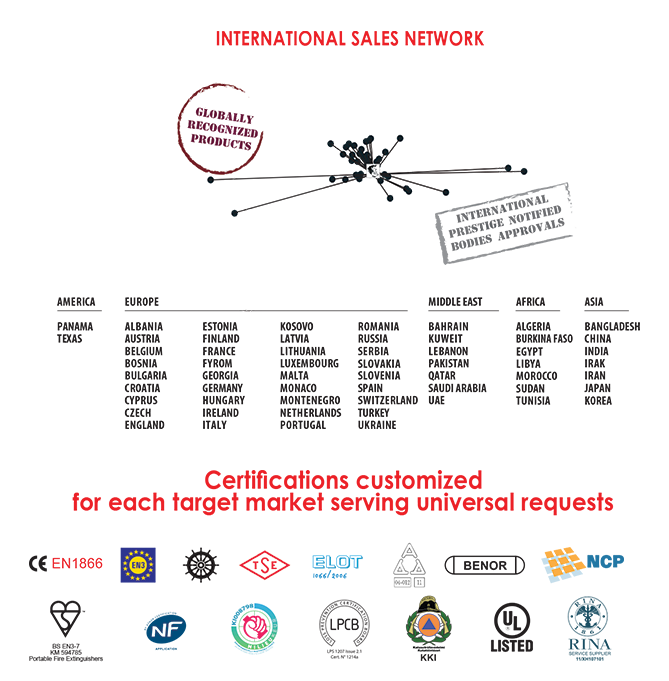 2016
---
MOBIAK's Product Catalogue numbers more than 1.000 products. MOBIAK's Distribution Centers in Athens and Thessaloniki are incredibly growing to a more than double storage area: 4000m² and 5000m² respectively. Now, both of these two Centers serve Partners on a Worldwide Export Scale.
By now, MOBIAK employees 105 persons & exports in more than 65 Countries worldwide.
2018
---
MOΒIAK is equipped with two parallel hydraulic test units, as well as has being equipped with a new valving/devalving unit for mechanical assembling of valves. MOBIAK's Product Catalogue continues enhancing New entries. New expansion on the Factory Premises in Chania to 32.000m² . Also added new Dexion shelves in Chania and in the Distribution Center in Athens for better Product storage.
MOBIAK's employees numbers 140 persons and the  Exports Network exceeds 70 countries worldwide.
Last but not least, the Company redesigns its logo, integrating under a single logo all the departments/activities of MOBIAK.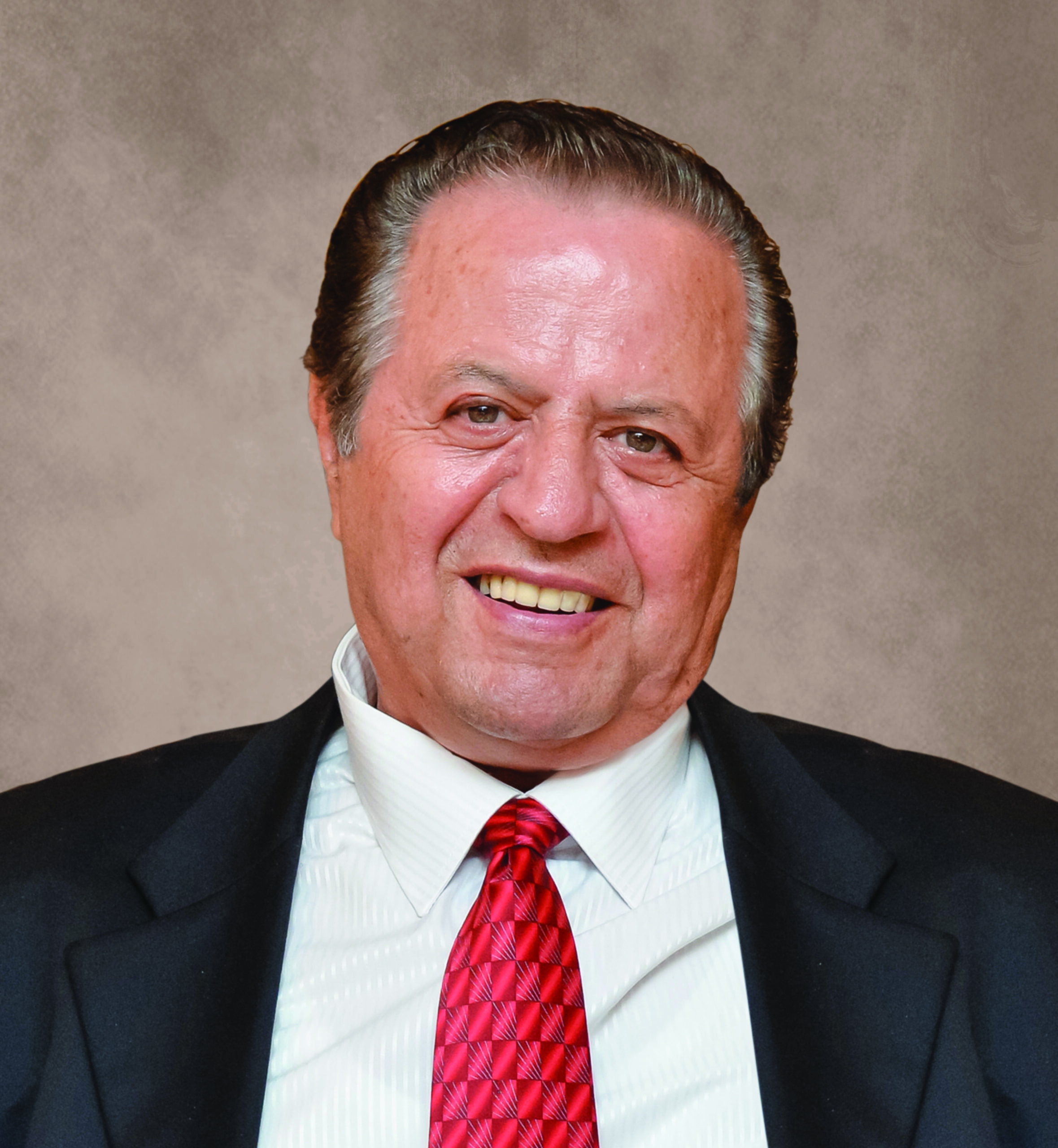 May 9, 2020
---
MOBIAK said the last goodbye to its founder Mr Emmanuel Svourakis.
43 years after he founded MOBIAK Group of Companies, having traveled to more than 77 countries around the world.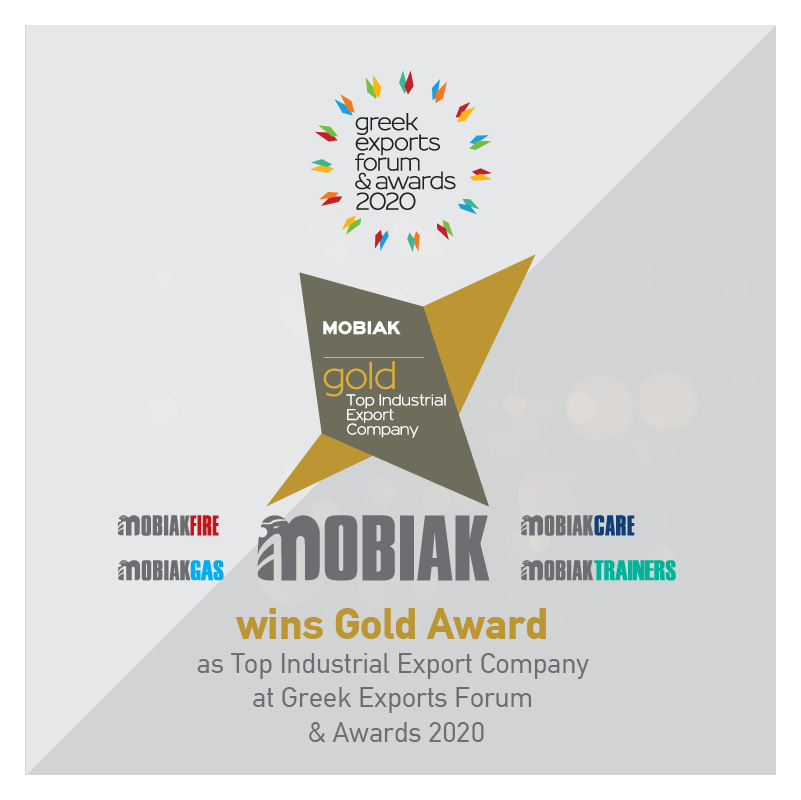 2020
---
MOBIAK is among the Greek companies that excel in outward investment.
The Group was given the golden award at the Greek Exports Forum & Awards 2020, as the Τop Industrial Export Company.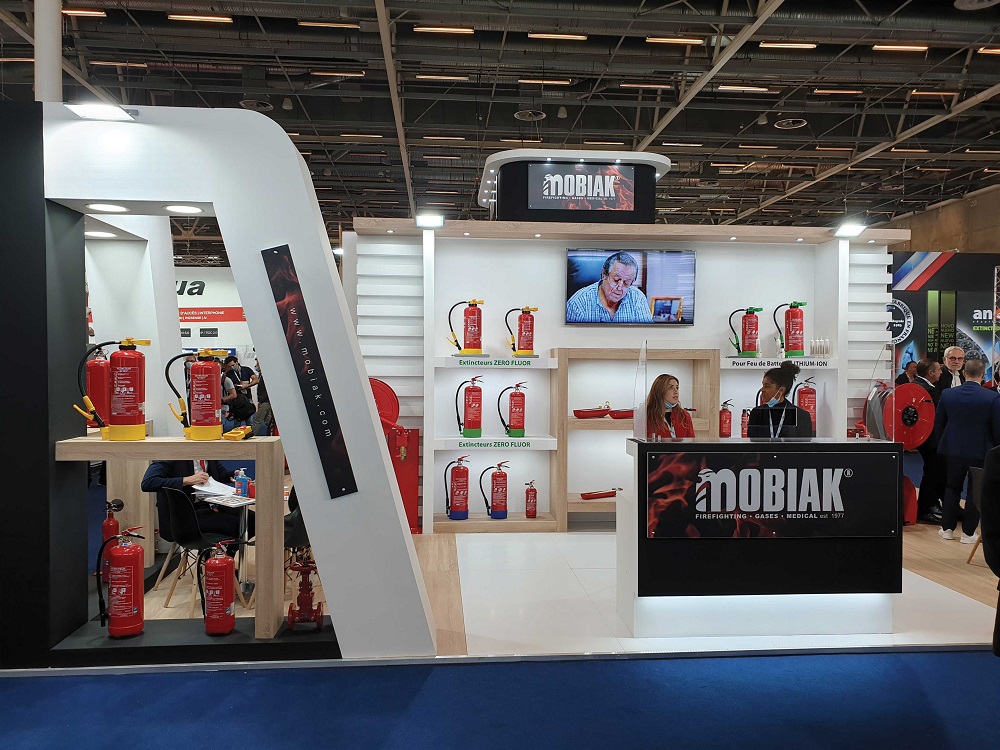 2021
---
In 2021 Emmanuel Svourakis the Younger, from the 3rd Generation of the Family though only 17 years old, participated actively in the Expoprotection Security exhibition in Paris, together with the rest of the team, making Successful Contacts with partners and of course proving that the administration of MOVIAK SA has not only a bright Past and Present but also a Future!
Also in 2021, MOVIAK won the gold prize in the category Export Growth – Development in International Markets of Sales Excellence Awards.